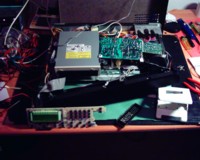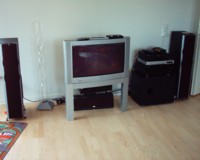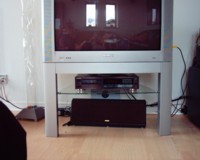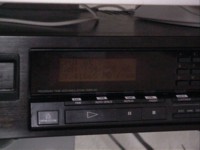 OK, as of March 04, I have had the player running for about a year, and for a long time I had some ideas about improving the player.

2 of the fans were a bit worn and was making unnessesary much noise. Those were replaces with brand-new low-noice types on 7 volts. The third I kept, but made it controlable with the potentiometer in front. That way I can regulate the fanspeed (and noise).

One of my other big wishes, was beeing able to record and view movies and shows from TV. Finally I bought an external USB tvcard, and now I can use my divxplayer as a VCR. The tvcard is a Hauppauge with build-in MPG2 compressor, that almost dosn't use any CPU power.

With the tvcard in place, the next thing I needed was more HD space, so I swapped the 6 GB with a 80 GB disk. And as I had the cover off, I desided to put in a Duron 750 Mhz CPU instead, because the 1300 Mhz was overkill for now (and besides, I could use the 1300 elsewhere).

Some time later I got myself a cute little 3x16 chars LCD display, that was able to fit in place of the original CDplayer one. I soldered it to a LPT port connecter and got it running with som software called jaLCDs. It now shows CPU power used, RAM used, and free space on drive C.